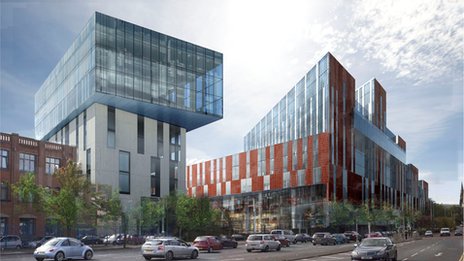 In early 2012 the University of Ulster announced it's plans for a £250m expansion of it's York Street Campus in Belfast.
This will house the 15,000 students currently based in Jordanstown and Belfast.  The development, which will consist of four interlinked buildings in the York Street, Frederick Street and Donegall Street areas, is expected to be approximately 73,000 square metres.
Two years later and the building work has commenced.  The new Block B (pictured) is proposed as a nine-storey building at it's height, with a six-storey base that reflects the heights along York Street and Block 82 (existing) with an articulated upper level studio box / lantern. It is expected that this building will house the Centre for Sustainable Technologies and the Faculty of the Built Environment with the upper floors of Block B housing the main sculpture and painting studios.
We have currently secured the contract to install Oxygen and Acetylene systems complete with gas proving system.  All pipework is in degreased copper and Sch 40 seamless iron with Manifold systems.
Although this is a small part of the overall project we are hoping to secure further phases in the near future.
Work is due to start in December of this year.